Show Schedule
ENTRIES AND CAMPING CAN BE BOOKED ONLINE AT
https://www.showmanager.com.au/
THE BULLMASTIFF CLUB OF QLD PROUDLY PRESENTS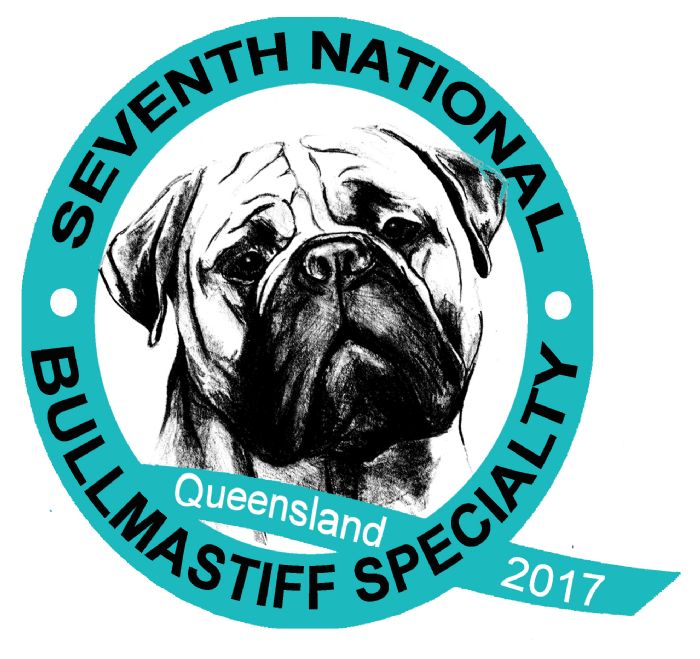 THE 7TH NATIONAL
BULLMASTIFF
SPECIALTY
FRIDAY 23RD & SATURDAY 24TH JUNE 2017
DOGS QLD SPORTS GROUNDS, DURACK, QLD
BREED CLASSES: MRS SUSAN COX (COLOM KENNELS – UK)
SPECIAL CLASSES: MRS NORMA ZIMMERLE QLD
Friday 23rd June – Opening ceremony commences at 8.30am.
Parade of Veterans at 9 am followed by judging of Baby Puppy Dog.
Order of judging: Dog classes followed by Bitches.
Saturday 24th June – Judging commences where left off the day before if not finished, or with General Specials. Lunch break will be after General Specials.
Property Classes to commence with Baby Puppy Sweepstakes after the lunch break.
Breed Classes: 1, 2, 3, 4, 5, 10, 11, 18 Dogs
1a, 2a, 3a, 4a, 5a, 10a, 11a, 18a Bitches
Property Classes: Baby Puppy Sweepstakes (3-6 mths) Puppy Sweepstakes (6-12 mths)
Novice Sweepstakes (6 mths + and not titled)
Best Head Dog Best Head Bitch Best Movement
Best Brindle Coat Best Fawn Coat Best Red Coat
Best Owned, Bred & Handled
Best Sire &Progeny (min 2, max 4 exhibits) Best Dam &Progeny (min 2, max 4 exhibits)
Breeders Cup
Entry Fees- 1st entry $35, subsequent entries $25, Baby Puppy $15, Sweepstakes & Property classes $15 each.
Catalogues: Included in first entry, additional copies $20 each.
Entries to be nominated by the Breeder, one entry per Breeder and to consist of minimum 3 & maximum 6 exhibits all bred under the same prefix & from at least 3 separate litters, either sex, be a minimum of 6 mths old, not necessarily owned by the breeder, can include neutered exhibits but they must have been registered on the Main Register.
NOTE: NEUTER EXHIBITS ENTERED IN CLASSES 18 & 18a WILL BE ELIGIBLE TO COMPETE IN PROPERTY CLASSES EXCLUDING SWEEPSTAKES.
Entries to: Show Secretary, PO Box 636 Lismore NSW 2480
Enquiries to: Show Secretary, Melissa Smith
[email protected] (02) 66284465